Your First Visit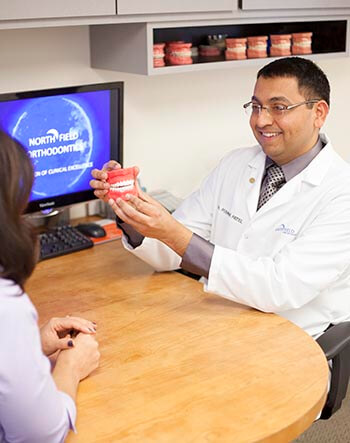 We look forward to meeting you on your first visit to our office. During this time, we will help you get acquainted with our office and learn about your orthodontic treatment. We understand that each patient's orthodontic treatment is different, and we promise to give you the personal attention you deserve.
Your first orthodontic visit will consist of an examination, photos, x-rays, and discussion of any orthodontic problems and the potential treatment options.
During the initial examination for each patient, we will address the following questions that cover the basics of orthodontic treatment.
Is there a condition that orthodontics can address?
What treatment procedures will be used to correct the problem?
How long will treatment take?
How much will it cost?
What are my payment options?
Complete Diagnostic Records
X-rays, photos of your teeth-face, and digital scan models of your teeth are made so that Dr. Patel can develop a custom treatment plan for you. These records are also helpful in tracking the progress of treatment as the teeth move under orthodontic care.
Appointments
The initial appointment to place your braces or appliances usually takes approximately 60-90 minutes. At that visit, we will also review any instructions about taking care of your new braces and/or appliances. After these initial appointments, you will typically be seen every 6 to 8 weeks for an adjustment. These adjustment appointments can take a little as 15 minutes or as long as 40 minutes depending on where you are in your treatment.
Patients are seen by appointment only. We make every effort to be on time for our patients, and ask that you extend the same courtesy to us. It is very important that you are seen on a routine basis, so we ask that you do not cancel any appointments. It can be difficult to reschedule appointments because they are usually booked 6-8 weeks in advance. We understand that emergencies and illnesses do occur and will do our best to find a suitable alternative appointment time.
Mission Statement
Our mission is to provide exceptional, state-of-the-art orthodontic treatment in a caring, supportive and family oriented environment for our patients. Our commitment to excellence includes maintaining a positive, enthusiastic team that is supportive of one another and is always learning.